Where Can I Find Auto Repair Insurance In Westchester NY?
Our goal at Keep Insurance is to provide protection in the event of an accident, breakdown, or part failure. Our staff is friendly and knowledgeable to ensure you receive the best auto repair insurance in Westchester NY at the lowest cost available.
What Does Auto Repair Insurance Cover?
A standard auto insurance policy that is used to legally get a vehicle on the road does not cover repairs! Even if your policy includes collision and comprehensive coverage, it will not cover repairs on parts that break or fail over time. A warranty covers repairs, but eventually, warranties expire. However, auto repair insurance covers normal breakdowns and part failure, which are generally not covered by a standard auto insurance policy. Car repair insurance is often referred to as "extended warranty coverage."
How Much Does Auto Repair Insurance Cost?
The cost of auto repair insurance varies for each client. The auto repair insurance cost is based on individual factors such as make and model and condition of the vehicle, driving history, type of coverage, and more. However, if you are uninsured and need auto repairs, the mechanic will require payment in full, which may be very costly.
Can Any Vehicle Be Insured?
The great thing that separates auto repair insurance from a warranty is that the vehicle's age has little effect on the coverage itself. However, you may be required to pay a larger deductible if your vehicle is an older model. We also provide other forms of protection such as business liability insurance and homeowner's insurance.
Why Choose Auto Repair Insurance?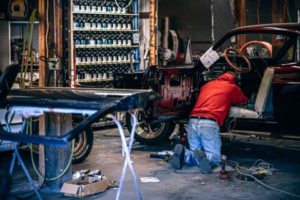 Auto repair insurance provides protection and coverage for your vehicle. Driving without auto insurance may leave you vulnerable to mechanic repair costs in the case of an accident. The benefits of car repair insurance coverage includes:
Peace of mind that repairs are covered
Extra services such as towing and rental car
Billing discrepancies are handled directly
Automatic built-in monthly budget for auto repairs
Staying protected after your warranty runs out
Finding Auto Repair Insurance In Westchester NY
In conclusion, our team at Keep Insurance are experts in insurance coverage. We are here to answer any questions or concerns you may have regarding car insurance or auto repair insurance in Westchester NY, Dutchess County NY, Ulster County NY, Danbury CT, and Fairfield CT. Contact Keep Insurance today to schedule a free consultation. Call now 877-892-KEEP.